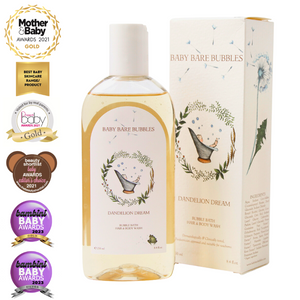 Great products
My grand daughter has been using these products for her two years of life, and has no problems, always smells gorgeous!
Beautiful product
I was bought a bottle as a gift for my baby shower, having never heard of it before! and quickly repurchased. This smell will forever take me back to the baby years and have recommended to all
Excellent skincare for little ones
I've been using Baby Bare Bubbles since my LB started showing signs of skin irritation with other products. It not only smells lovely, but is not irritating to children's delicate skin. The moisturiser is lovely to put on after a bath, doesn't leave a residue and soaks in quickly.
Beautiful product
I have been ordering the bubble bath/shampoo for about a year now and my little boy skin and hair are so soft and smell beautiful after his bath and never suffers from dry skin. I love these products and have purchased them for my sisters new baby to introduce her to the products and I'm sure will love them too.
Love this product on my baby. Would definitely buy this again.
Only the highest quality natural ingredients are used by Baby Bare Bubbles to produce a range of mild, kind and safe daily skincare products that are specially formulated and perfect for the whole family.

"Paediatrician & clinically approved and dermatologically tested, Free from parabens, SLSs, mineral oils and artificial colours, and correctly balanced for baby's and toddlers sensitive and eczema prone skin - tear-free, mild and non-irritating and no nasties for peace of mind".

"Rich in vitamins, shea butter to help nourish, soothe and deliver moisture, avocado oil to help protect your baby's skin barrier, oats to calm irritated skin and lock in moisture, dandelion and purple coneflower for their natural healing properties".

Loved By Our Customers:
Five-Star Reviews

100% Satisfaction
Guarantee

the finest natural ingredients
How Dandelion Dream is made.
1
Dandelion

Rich in Vitamin A, C, B6 and K. It is high in fibre, calcium, iron, magnesium, sodium and zinc. It is known for treating eczema and other skin conditions.
2
Purple Coneflower

Purple Cone flower has been used for centuries for its antibiotic and anti-inflammatory properties, and for the promotion of wound healing. Rich in iron, iodine potassium, Vitamin A, E and C, it is also used to treat conditions such as acne, eczema and psoriasis.
3
Oats

Known to nourish, soften and cleanse the skin. It is rich in iron, calcium, potassium, magnesium, zinc, Vitmain C, B and A, retinol and essential amino acids. Extracts are used for soothing dry, itchy and inflamed skin or eczema related conditions.
4
Hops

Hops have a long and proven history of herbal use, employed for soothing, sedative, tonic and calming effect on the body and mind. Humulus Lupulus Extract is antimicrobial, astringent, emollient, skin conditioning, soothing, tonic and perfuming. Extracts are used for their skin softening properties.
Extra-special care with Dandelion, Purple Coneflower, Oats, Hops, Avocado Oil, Sunflower Seed Oil, Shea and Cacao Seed Butter.

Moisturiser: Aqua, Caprylic/capric, Triglyceride, Glycerin Isopropyl Myristate, Cetearyl Alcohol, Polyglyceryl-3, Dicitrate/stearate, Stearic Acid, Glyceryl Stearate, Butyrospermum Parkii Butter*, Theobroma Cacao Seed Butter*, Benzyl Alcohol Persea Gratissima Oil*, Parfum, Helianthus Annuus Seed Oil, Dehydroacetic Acid, Echinacea Purpurea Flower/Leaf/Extract*, Avena Sativa Kernel Extract*, Humulus Lupulus Extract*, Taraxacum Officinale Root Extract*, Rosmarinus Officinalis Leaf Extract, Citric Acid, Sodium Benzoate, Potassium Sorbate

*Organic
EXTRA SPECIAL CARE GUARANTEED
Our #1 priority here at Baby Bare is you and your child. Which means we stand by our products 100%, no matter what, if you have a problem, we'll solve it, refund it, replace your order. Whatever it takes for your little one's to get that extra-special bath time care.
KEY DANDELION DREAM FEATURES

Free from Artificial Colours
Cruelty-free Dermatologically Tested
Clinically Tested and Proven
Kind, Mild and Safe for the Skin
High Quality Natural Ingredients
Suitable for Eczema-prone and Sensitive Skin
choosing a selection results in a full page refresh